Hi, Vintage Lovers, welcome to our Little Shop of Treasures Blog. Come with me. I want to share to a few cool items in our shop.

This week we are featuring macrame pattern books.
My goodness, I think the first time I made a macrame project, it was a large plant hanger in white macrame cord. Holy cow, that was twenty-seven years ago.
And I am sure most of us connect macrame with plant hangers. It is true even now, we can find all kinds of plant hangers made by macrame but what most don't know, there are literally hundreds of projects for macrame.


Before I get into all those projects, let's take a look at a few Macrame Books in our etsy store and imagine the possibilities.
Natural Knots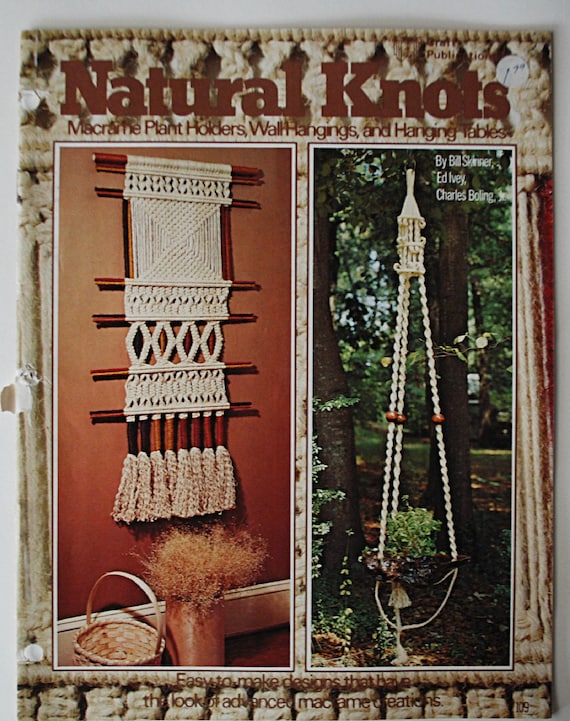 Front Cover
This is a vintage crafting book from 1976.
Natural knots has 23 pages filled with macrame projects for the home or cottage.
The beginning of the book features information about the craft of macrame, descriptions of the terms used, types of cords and helpful tips.
There are illustrations at the back of the book of the different knots.
Patterns Include:
- Mayan Memory (wall hanging)
- Tamed Nature (plant holder)
- Bungalow Beauty (plant holder)
- Uptowner (plant holder)
- Polynesian Lace (plant holder)
- Hawaiian Delight (plant holder)
- Wildflower (plant holder)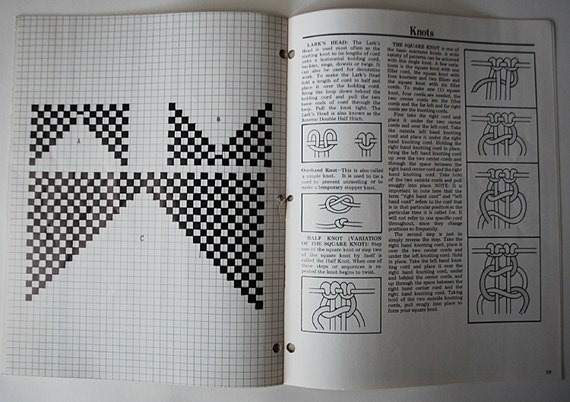 Picture 2
- Forest Glen (plant holder)
- Bower Vine (plant holder)
- Trading Post Treasure (wall
hanging)
- Decor Attraction (hanging table)
- Mountain Mood (plant holder,
cover)

This book would be great for beginners and novices alike.
It is in good vintage condition. The binding is tight and the pages are bright and clean.
Macrame History
Here's a bit of history for you. Did you know macrame was originally a sailor's craft used to decorate their belongings? They used macrame for knife handles and bottles.

In the 1970s macrame became very popular, especially among "hippies" who made necklaces, anklets, bracelets and other forms of jewelry.
Macrame '76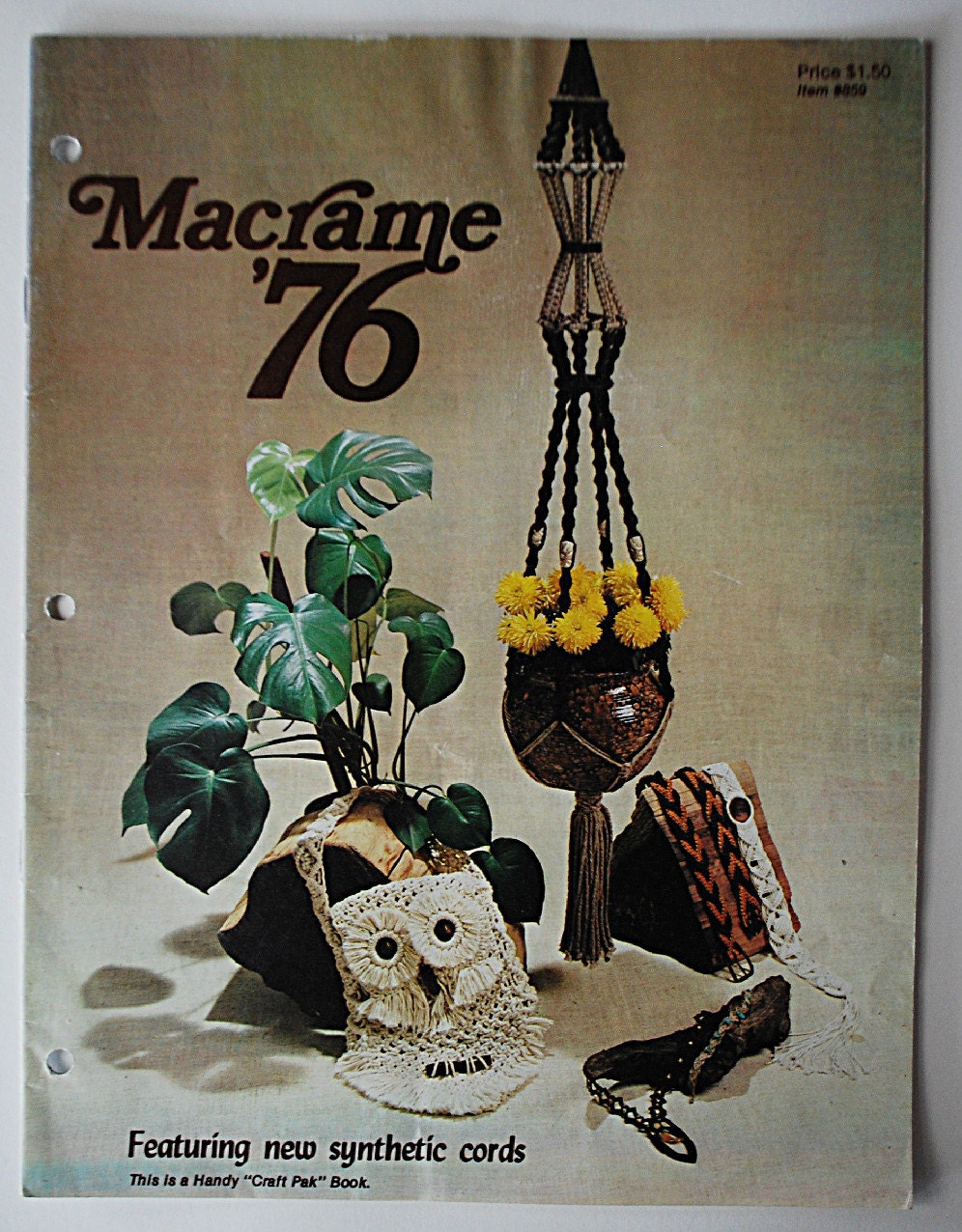 This is a vintage macrame crafting book from 1976. It features 13 projects on 23 pages.
Here is a list of projects included in this book:
- Owl Purse -
on front cover

- Tennis Purse
- Heishi Necklace - on front cover
- Turquoise Choker -
on front cover

- Braided Belt -
on front cover

- White Ladies Belt -
on front cover

- Patchwork Light (plant holder)
- Contessa (plant holder)
- Bottoms Up (plant holder)
- Sunshine(plant holder)
- Fits elegance (plant holder) -
on front cover

- Black Odyssey (plant holder) -
on front cover

- Eagle (wall hanging art)


This book is in excellent vintage condition. No rips, tears or stains, and has tight binding.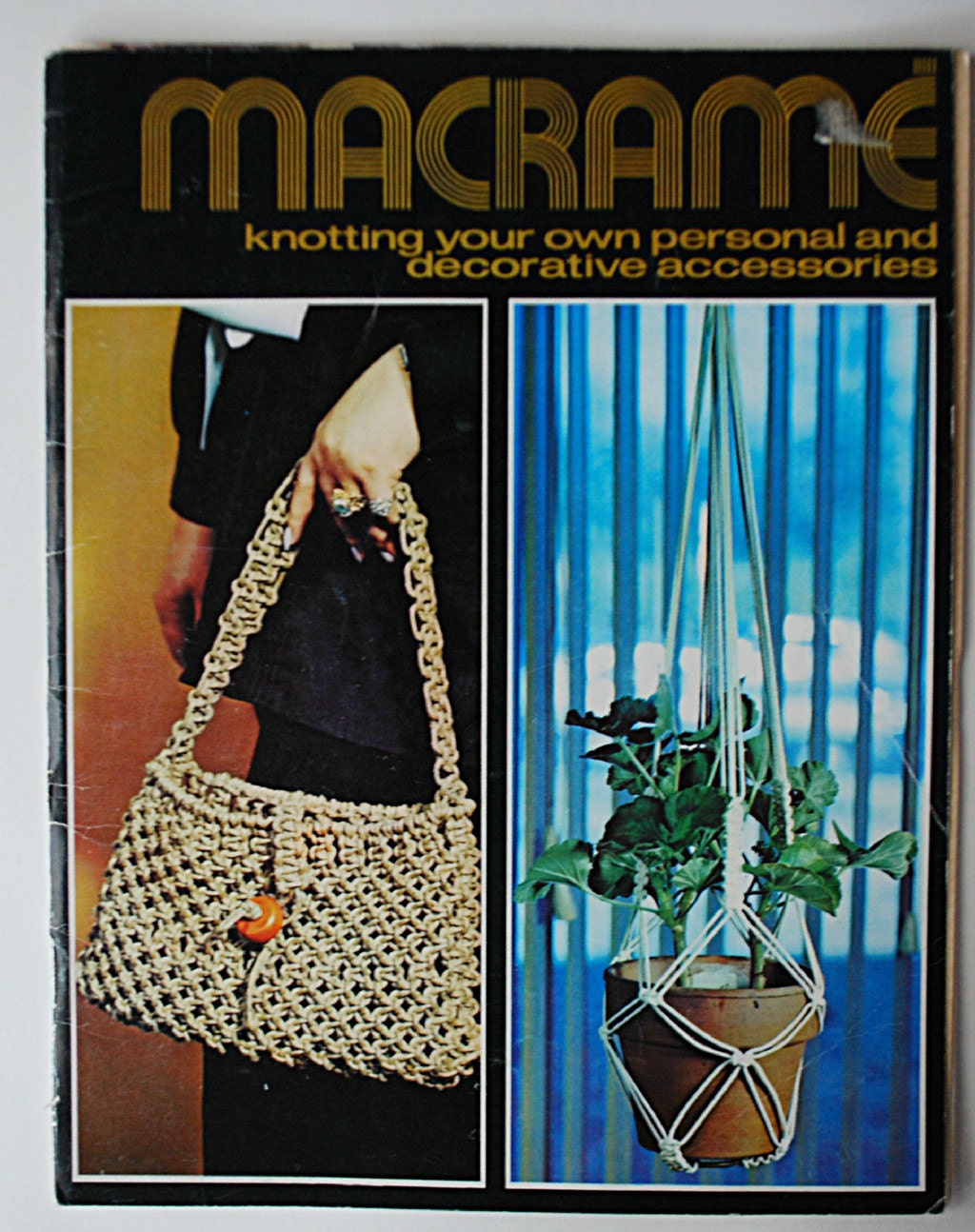 Cover Page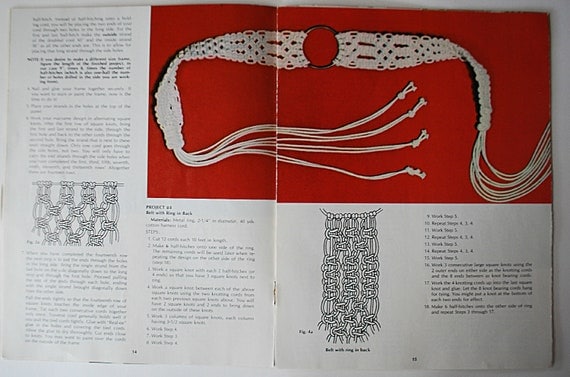 "Knotting your own personal and decorative accessories."
This macrame crafting book was published in 1971 to help beginners learn the art of macrame knotting.
The beginning of the book has a short introduction followed by descriptions for the ideal working surface, materials, preparation and basic knotting.
There are a bunch of great patterns on 33 pages.
- Square Knot Belt
- Criss-Cross Square Knot Belt
- Panel or Shelf
- Belt With Ring In Back
- Planter Hanging
- Pillow
- Jewelry
- Dog Collar
- Trims
- Bell Pull
- Purse
- Sand Dollar Hanging
- Lamp
- Orange Hanging
I want the purse in black please and the belt in brown.
Mad About Macrame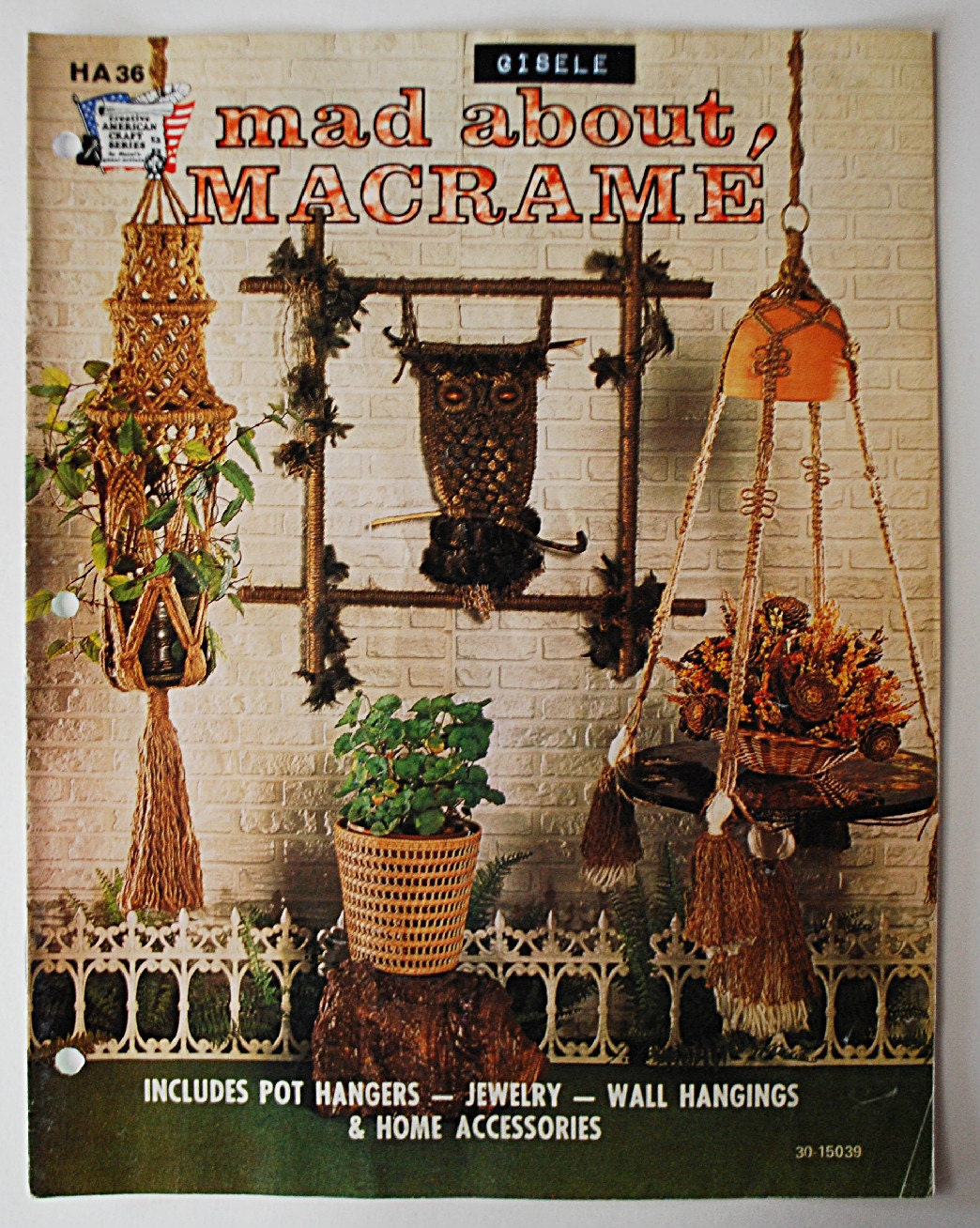 This is a vintage crafting book- 1976. Mad About Macrame has 15 pages and has crafts for pot hangers, jewelry, wall hangings and other home accessories.
In good vintage condition, this book has no rips or tears, clean and bright pages with tight binding.
I miss having plants in the house. There just isn't enough light in here for them to thrive.
But if I could, I would make plant hangers with macrame cord because I prefer the sleek finished look over the hemp or jute but to each their own.
But for those of you who adore a rustic and natural jute would be a wonderful alternative. Hemp has become very popular is also a material to consider.
I have only seen Jute in one colour and that is natural. I did read somewhere that jute can be dyed to any colour you choose.
On the other hand, if colour is important you may choose the macrame cord for your projects.
Hemp also comes in several different colours so you can pick your favorite colour or match it to your decor.
We hope you are just as delighted with these beautiful patterns as we are.
These amazing books are all original, not reproductions.
Classic designs are always in fashion.




Macrame Projects
Barefoot Sandals

Bracelets

Anklets

Plant Hangers

Belts

Wall Art

Purses

Key Chains

Dog Collars and Leashes

Christmas Ornaments

Fringe for Table Cloths

Necklaces

Earings

Hats

Scarves

Vest

Hammock

Toys

Lampshades
Have you tried your hand at macrame? I enjoyed doing a few projects. The hardest part of it was the long strands getting tangled. I am sure there are ways to get around that.
Well, thanks for stopping by. If your interested in any of these or other vintage items, stop by our Etsy Shop or check out this free printable calendar.
If you would like to receive our blog updates please join or subscribe via email.
Thanks again for visiting Little Shop of Treasures - for all things vintage, and have a fabulous day.